Microsoft
Xbox × Halo Infinite AR Campaign
As if the launch of Halo Infinite wasn't already massive enough, its release coincided with the 20th anniversary of the game franchise, hands-down one of the most popular of all time. To support its launch, we created an experience to match the scale and legendary moment with our friends at Xbox. We descended upon Eugene, Oregon with Master Chief, his Warthog and the Pelican for the 125th rivalry meeting of the Oregon Ducks and Oregon State Beavers football teams.
While Master Chief and his Warthog were present, the Pelican flew right into Autzen stadium. Introduced by beloved Oregon alum, Xbox partner and basketball superstar, Sabrina Ionescu and the infamous Duck mascot, the Pelican swooped in and hovered above the field in a mind-bending feat of mixed reality before landing at the 50-yard line to project the Halo Infinite and Oregon Duck logos before exiting.
Marketing Campaign, Packaging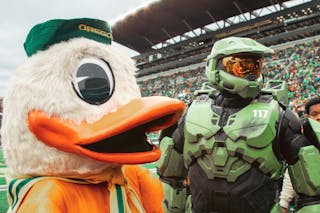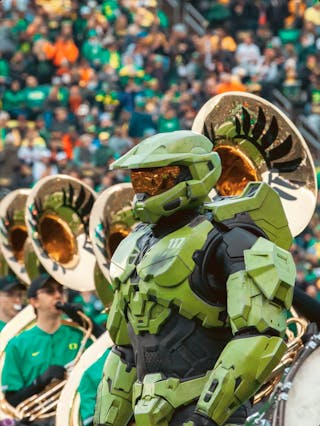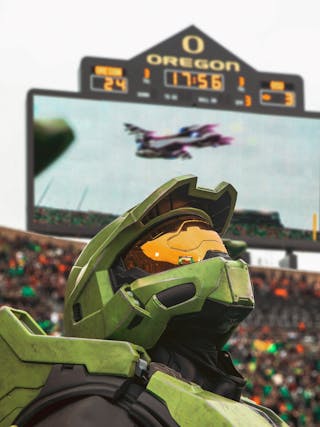 Other activities included Master Chief serving as the guest of honor, delivering the game ball to officials prior to kickoff and at Halftime, the Oregon Marching Band playing a rendition of the Halo Infinite theme song while Master Chief strolled the field.
Impact
With over 60,000 fans present to witness the AR experience in real time inside the stadium, naturally it wasn't long before the rest of the world found out tuned in to the unique experience. By the end of the third quarter outlets including Sportscenter, Bleacher Report, Complex, Barstool Sports, Geekwire and others were sharing coverage of the activation across the world.