Umpqua Bank
Visual Identity
Umpqua Bank began in a small timber town in Oregon over 60 years ago. Today, it is the largest bank headquartered in the Northwest, in no small part because of their commitment to putting customers first.
As they've expanded, there's been a need to increase awareness as a partner for larger West Coast businesses. They asked us to refresh their messaging and brand identity to help showcase these capabilities without losing sight of the human values that got them to where they are today.
Brand Identity, Art Direction, Marketing Campaign
After coming to us with an updated brand strategy and tagline, it was evident that they needed a new visual 
identity that reflected their values of partnership while 
also positioning them to be the bank of choice for 
larger businesses.
The system we developed is based on the idea of interconnection, where smaller parts come together to create 
something greater. The graphic U-shape not only stood for 'Umpqua' but it was also a unifier, visually connecting people, and cropping imagery as part of the larger branded system.
The graphic system lends itself well to an array of company assets—everything from t-shirt and notebook designs to report covers and social media templates.
Campaign
After laying the groundwork, we art directed a campaign that focused on telling the stories of real business owners and how Umpqua played a pivotal role in their success. Many of these narratives took place throughout 2020, where they helped administer over $2.1 billion in PPP loans.
Content Creation
We traveled with Umpqua and a team of photographers and videographers to five different cities to document and interview twelve partnering businesses helping tell their unique story through photography and video.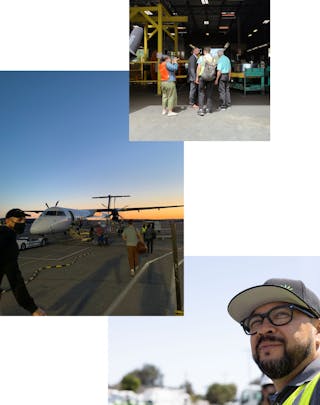 Commercial
The culmination of our multi city customer campaign shoot was a 30 second broadcast TV commercial that introduced the world to their newly updated brand and message.
Recognition
Max Magerkurth, Director of Photography
Kyle Smurdon, Director of Photography
Corbin Richardson, Director
Celeste Noche, Photographer
Ethan Scott, Photographer
Devin Tolman, Photographer