Period.org
Brand Strategy & Visual Language
PERIOD. is a global non-profit organization whose goal is to end period poverty. The team works to accomplish this via three central pillars: providing necessary services like collecting and donating period products to those in need; educating the public on the realities and struggles of those experiencing period poverty; and advocating for legislative change by connecting and lobbying directly with policy makers globally.
We are proud to be creative strategic partners with the dedicated team at PERIOD. Recently we helped to refresh their visual identity and create a new digital experience for the organization, developing a new digital home that better served their strategic communication and fundraising goals as well as becoming a hub for content and resources for their global chapter network.
Strategy, Visual Language, Art Direction, Campaign Concepting, Content Creation, UI Design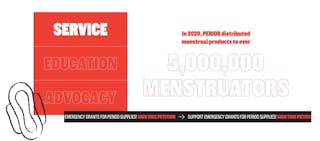 Awareness of the organization has grown exponentially in the past two years, with their rapid expansion to more than 1,000 global chapters. The new site needed to better communicate the mission as well as keep its global network informed on new efforts, policy updates and resources. To do that we created a guided, educational sequence upon entry to quickly introduce people to PERIOD — while at the same time streamlining the navigation for those more familiar that are coming back to the site to quickly access resources.
Given the amount of resources and information, we created a flexible system of nested menus designed for easy use and quick access.
Period Action Day
Period Action Day is an event hosted by PERIOD to highlight the work of activists within the Menstrual Movement. This year they went virtual, so we helped them create an event microsite, as well as content to build energy on social towards the October 10th day-of.