Nike
Air Max Day 2018
As part of the 2018 Air Max Day celebrations, we partnered with Nike and Foot Locker to bring a unique experience and energy to Foot Locker Doors in Houston, New York and Los Angeles.
Art Direction, Marketing Campaign, Event Design, Social Campaign
With the goal of developing an experience that was interactive and share-able, we concepted and created two unique interactive AR experiences for all three cities to drive traffic to Foot Locker for the launch of the Air Max 270.
In New York and LA we built a unique multi-array camera photo booth that store visitors could interact with and generate content that they were able to share to their social channels, and in real time, was pushed to one of the highest visibility billboards in Times Square. The experience took place over 3 days in both cities and ultimately gave sneakerheads a fun and unique way to celebrate Air Max Day.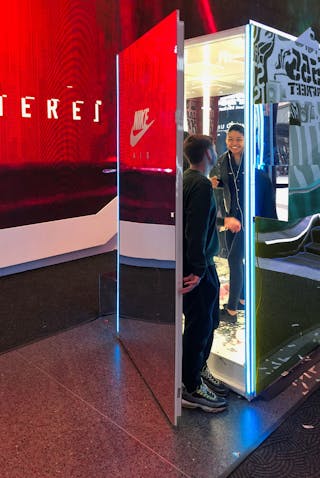 Mobile City Tour
In Houston we had an interactive experience that was housed in our branded Air Max Day truck and traveled to multiple locations over 4 days. A coordinated social campaign with Foot Locker alerted Houston area sneakerheads to the upcoming stops. At each stop, people could purchase exclusive product and participate in an AR experience that pushed content to their social feeds.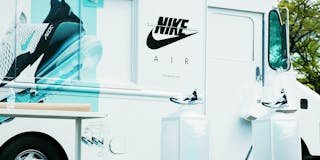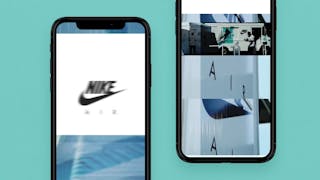 The AR experience was an interpretation of Nike's overall visual campaign. Upon entering the booth consumers were prompted to "blow a bubble" and an augmented bubble appeared on the screen and mimicked the users behavior. We worked closely with our tech partner to design 3 unique animations - the first grew the bubble to the size of the screen, the second grew the bubble to the point where it popped and the third grew the bubble to the point where it detached and floated off the screen. Consumers then received a gif of the interaction directly to their cell phone, which then could be pushed to social.
Ultimately we gave sneakerheads a chance to experience Nike and Air Max Day first hand, while laying the foundation for future brand activations in Houston.
Special thanks to our partners Dot Dot Dash who took our concept direction and served as our technical lead on both experiences and thanks to Matchless Build who built and installed both experiences.